Description
Why choose our Diamond Smile – toothpaste for dental plaque?
Get your diamond smile
The combination of the patented mixture of enzymes with saponins from Yucca effectively breaks down tartar and prevents the formation of yellow coatings on the teeth.
Our toothpaste also features Bromelain and Papain, two potent enzymes derived from pineapple and papaya fruits.
These enzymes polish teeth, remove plaque and reduce tartar.
Diamond Smile harnesses the remarkable properties of Zederach indiai (Indian Soapberry). Thanks to its antiseptic properties, it keeps teeth and gums healthy.
Sodium fluoride is an effective protection against tooth decay and contributes to remineralization – to create a thicker and more resistant layer of enamel on the surface of the teeth, thus reducing tooth decay by 20-30%.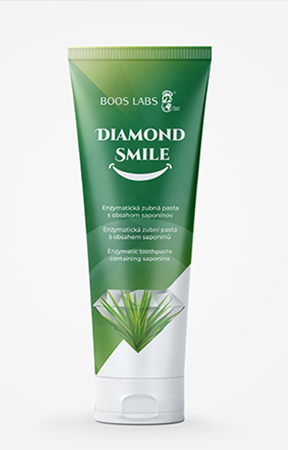 Active toothpaste ingredients
Unrivalled toothpaste contains a unique combination of natural enzymatic ingredients that naturally remove plaque and stains from teeth. The result is whiter and healthier teeth.
Yucca Shidigera extract – saponins from the Yucca Shidigera plant contribute to the dissolution of tartar. Saponins reduce the surface tension of all sediments and thus prevent the deposition of dirt and the formation of tartar.
Bromelain and papain – wo potent enzymes derived from pineapple and papaya fruits. These natural enzymes work in synergy to break down stubborn plaque and stains, revealing a whiter, brighter smile with regular use.
They are also known to possess anti-inflammatory properties, promoting healthier gums and reducing the risk of gingivitis.
Enzymmix – a patented compound that effectively breaks down tartar.
Zederach indiai (Indian Soapberry) – an eco-friendly, non-toxic, and biodegradable ingredient that has been used for centuries in traditional Ayurvedic medicine. This powerful plant extract effectively cleans and polishes your teeth while maintaining a gentle, low-abrasion formula suitable for daily use.
Sodium Fluoride – a trusted and proven ingredient in dental care, is included in Diamond Smile toothpaste for dental plaque to strengthen tooth enamel, prevent cavities, and provide long-lasting protection against tooth decay.
With consistent use, your teeth will become more resilient against everyday wear and tear, keeping your smile looking its best.
Eco-conscious formula
Diamond Smile toothpaste for dental plaque is not only an innovative fusion of nature and science, but it also promotes sustainable and responsible oral care.
Our eco-conscious formula is free of harsh chemicals and artificial preservatives, ensuring a safer and healthier choice for you and the environment.
Transform your dental care routine and unleash the full potential of your smile with the Diamond Smile toothpaste for dental plaque.
Experience the extraordinary blend of effective, natural ingredients and advanced dental protection that will leave your mouth feeling fresh, clean, and invigorated. Elevate your oral health and let your smile shine like a diamond.